The method of application has a significant impact on the results of testosterone replacement therapy. In a study that previously assessed research (meta-analyses) on transdermal and intramuscular TRT, it was discovered that testosterone injections not only provided the best results, but they also had a lower cardiovascular risk than transdermal formulations. In this review of testosterone replacement therapy results, we look at an estimated timeline for seeing individual benefits, as well as hear from some of our clients as to how testosterone treatment has improved their lives.
We start by looking at the comparison studies of injectable and transdermal testosterone in the chart below – the percentages representing increases in middle and older age men:
| | | |
| --- | --- | --- |
| Benefit/Results | Intramuscular Testosterone | Transdermal Testosterone |
| Lower Extremity Strength | 10.4 % | No improvement |
| Upper Extremity Strength | 12.9 % | 4.5 % |
| Fat-Free Mass | 5.7 % | 1.7 % |
Another significant finding in this meta-analysis was that transdermal testosterone significantly elevated circulating DHT (dihydrotestosterone) levels compared to testosterone injections. The cause is likely due to the higher expression of 5-alpha reductase in the skin as compared to skeletal muscle. 5-alpha reductase is the enzyme that converts testosterone into DHT. High levels of DHT can lead to prostate enlargement and hair loss.As you can see by the results of testosterone replacement therapy above, while intramuscular testosterone (injections) provided significant improvements in lower extremity strength, transdermal testosterone showed no benefit. IM testosterone also significantly improved upper extremity strength and fat-free mass as compared to transdermal testosterone.
Meta-analysis assessments show the results of testosterone replacement therapy via intramuscular injection to far exceed that of transdermal administration.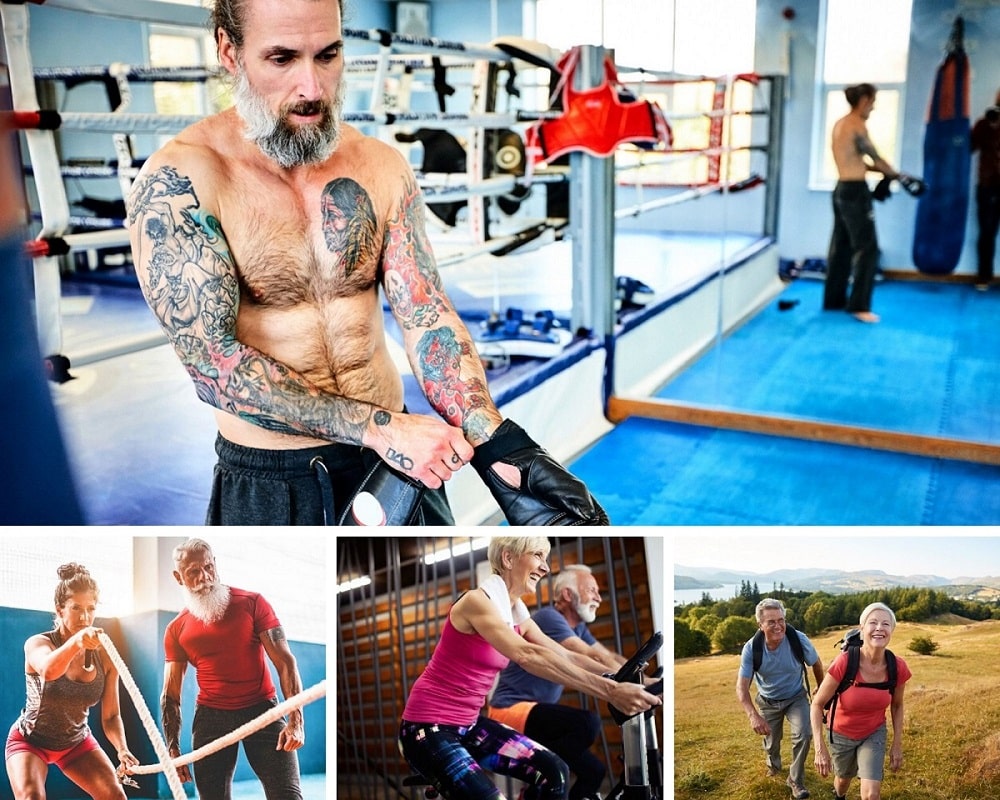 Results of Therapy in Each Stage
When looking at testosterone replacement therapy results in the timeline below, it is essential to remember that these are averages of what most men experience. Individual results can vary as much as a month or more. The only time one should express concern to the doctor is when more than a month has passed without achieving or noticing a particular benefit. Sometimes, the benefits are subtle at first. It helps to tune into what the body is saying or showing.
The timeline below shows the average results of testosterone replacement therapy for men. The results time listed is also relatively in line with what women can expect to achieve from using doctor-prescribed testosterone cream.
First weeks
Upon injection, some testosterone rapidly absorbs through the muscle into the bloodstream. As the free testosterone binds to androgen receptors, it begins to stimulate the various responses. Some men report a rapid onset of benefits, such as increased energy and better well-being. Others say it takes a day or two for them to notice any change. Do not worry if you do not see any improvement for the first week or two, as it may take your body a little longer to register the change in testosterone. Initial benefits in the first two weeks often include:
More energy
Better sense of humor
Happier mood
Less depression (may take 3 to 6 weeks to manifest)
Improved feeling of well-being
Better sleep
Increase in sexual activity and ejaculations
Enhanced ability to process visual content spatial data
1 month
Decrease in total serum cholesterol and triglycerides (may take up to 3 months and reach maximum after 12 months)
Ischemic threshold increases in men with heart disease
Reduction in C-reactive protein and other inflammation markers after 3 weeks (continuing to decline up to 24 months)
Improvements in sexual thoughts, fantasies, desire, libido, morning erections, sexual performance, and satisfaction after 3 weeks (may take up to 3 months)
More motivation
Less anxiety (3 to 4 weeks)
Increase in concentration, self-confidence, and sociability (3 to 4 weeks)
Decline in fatigue
Better spatial working memory (3 to 6 weeks)
2 months
Continued improvement in all previous areas
Onset of benefits from 1 month that take a little longer to achieve
The month-to-month results of testosterone replacement therapy may vary by as much as 4 to 6 weeks for some people.
3 months
Increase in lean body mass (muscle)
Decrease in fat mass
Reduction in waist-hip ratio
Decline in LDL (low-density lipoprotein) cholesterol
Lower serum glucose in males who have impaired glucose tolerance
Increase in prostate volume and PSA levels (may take up to 12 months)
Decrease in diastolic blood pressure (may take 3 to 9 months – maximum effects at 12 months)
Reduction in arterial stiffness and large artery compliance
Exercise capacity improvement in men with chronic heart failure
Better flow-mediated vasodilatation in men with coronary artery disease
Increase in red blood cell formation (maximum reach in 9 to 12 months)
4 months
 Increased muscular strength (although some reports show at 12 weeks)
5 months
Significant decline in depressive symptoms
6 months
 It takes a minimum of six months before effects on bone mineral density start to appear and may continue for up to 36 months
 Quality of life assessments vary from one man to the next, with reports of improvements coming as early as four weeks up to a total of nine months from onset of TRT.
The cost of Testosterone Therapy depends on many conditions: need of combining with other hormonal replacement programs, individual stages of Testosterone deficiency, general health conditions and others. You can find out all the details and prices by filling the form. We will call you back!
Patients Transformation During TRT: Before And After
We recommend to our clients to take before and after pictures that help them document their testosterone replacement therapy results. For men, it might help to take full-length photos in front of a mirror when wearing only a pair of shorts. Women can do the same with a bathing suit or work out bra and shorts. The reason for this is to show the changes in body composition that occur with TRT.
The reviews below show how the results of testosterone replacement therapy have benefited some of our clients:
"I first started to think
my testosterone levels were declining when I noticed that I was having fewer morning erections.
That had never been a problem for me in the past. After a few months of that issue, I noticed I was not sleeping as well at night and had less energy during the day. Since my sex drive was also declining, I decided to do some research and found your clinic online. After my doctor sent it my exam notes, and I had the required blood tests, it was discovered that I had low testosterone. Within a few weeks of starting testosterone cypionate injections, my morning erections and sex drive completely returned. I am happy to report that I am sleeping better at night, have plenty of energy during the day, and have even noticed positive changes in my body composition. It's great to feel like my old (younger) self again."
"When I turned 60, it seemed that everything in my life changed and I started to gain weight, suffered from depression, couldn't sleep, and was cranky all the time. My wife complained that I never wanted to go out with our friends or socialize. After a while, we hardly talked anymore. Then a friend of mine came over and put me on the phone with one of your medical advisors for a talk. That conversation changed my life. I proceeded with the required testing and exam, and within one week, I started my testosterone shots. Its been three months since I first contacted you, and I just wanted to say thank you. My wife and I are taking dance classes with our friends, going out a few times a week, and having incredible sex again. "
"I had watched enough of my friends go through menopause to recognize the signs when they started, so, while we were all at lunch one day, I started asking them about what brand of estrogen they used. Imagine my surprise when they all started talking about testosterone therapy. I thought that was only for men. One of them told me about your hormone clinic and gave me the phone number to call. I still can't believe how helpful your medical advisor was – we talked for almost an hour and the next day, I got my blood test first thing in the morning. Since starting my testosterone cream, all my hot flashes and night sweats are gone. My focus, energy levels, and sex drive have returned, and intercourse is no longer painful. Thank you for helping me get rid of my menopausal symptoms."