Low Testosterone often derails a man's plans for the future, causing a decline in energy, bone density, red blood cell production, sex drive, and quality of life. Rather than enjoying their golden years, many males find themselves facing issues such as osteoporosis, type 2 diabetes, cardiovascular disease, and dementia when they should be out having fun. The use of testosterone replacement therapy for men is restoring hope for a brighter tomorrow.
Male testosterone replacement therapy restores to the body what time, injury, illness, or other situations may have taken away.
Testosterone is a critical hormone for males. Not only does it support sexual desire and functions, but testosterone is also essential for the bones, blood cells, metabolism, brain, heart health, and muscles. The use of testosterone replacement therapy for men helps to provide the body with an additional supply of testosterone to make up for what it no longer produces.
Testosterone replacement therapy for men provides the body with an additional supply of testosterone to counteract low levels.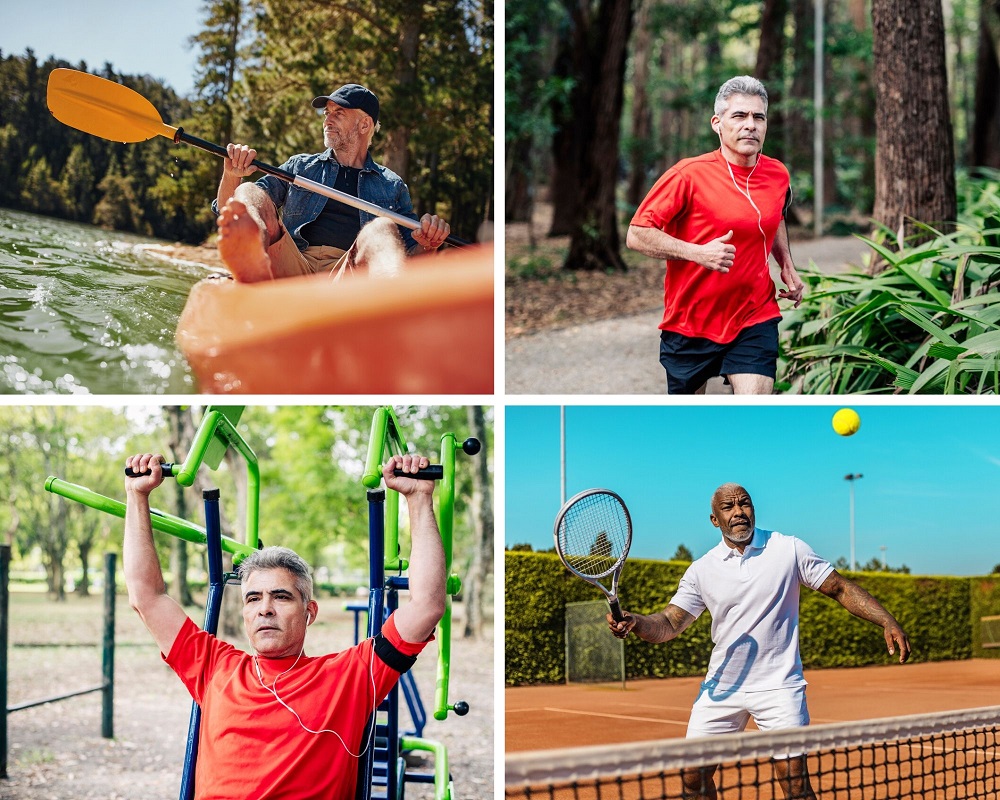 Production of Testosterone In Older Males
The majority of a male's supply of testosterone comes from his testes. A small amount is also synthesized in the adrenal glands and a lesser degree in the brain. The need for testosterone replacement therapy for men often arises due to the natural decline in testosterone production that starts in a male's mid to late-twenties. Testosterone levels typically reduce between one and two percent each year. Those men who are on the extreme end of the decrease may have forty percent less testosterone in their bloodstream by age forty-five. That can create serious quality of life problems.
As testosterone production declines for older males, it affects the following functions:
Sleep – due to higher contrasting levels of the hormone cortisol that increase when testosterone declines
Energy – caused by lack of sleep and poor metabolism
Metabolic – because testosterone helps regulate metabolism, insulin sensitivity, and glucose uptake, weight gain and high blood sugar are possible
Brain – androgen receptors (AR) in the brain support learning, attention, processing, and memory
Emotions – AR in the brain also require testosterone to maintain a healthy emotional state while reducing depression, stress, and anxiety
Heart – testosterone helps to keep cholesterol, triglycerides, and blood pressure levels in balance to maintain healthy arteries and heart functions
Structural Integrity – testosterone keeps the muscles and bones strong
Fertility – testosterone (only testicular produced) helps maintain sperm cell maturation
Sexual Functions – testosterone is crucial for sex drive, fantasies, arousal, performance, and pleasure
Testosterone replacement therapy for men is crucial for maintaining essential bodily functions.
Possible Negative Effects of Testosterone Replacement Therapy in Males
No medical treatment of any kind, including over-the-counter preparations, is without risk. Although testosterone has over eighty years of safety behind its use, raising testosterone levels too high can lead to problems.
Here are some concerns and possible negative effects of testosterone replacement therapy for men:
Testosterone injections can cause injection site irritation, redness, or swelling (short-term effects)
Transdermal testosterone can result in rashes, allergic reactions, hives, skin irritation, and cross-contamination risks to others
Transbuccal testosterone may cause bitter taste, gum sensitivity, and oral or tooth pain
Implantable testosterone pellets may lead to adverse reactions and difficult removal, pellets exiting the skin and creating the need for multiple treatments
Nasal gel may cause congestion or irritation
Illegal use or abuse (too high a dosage) can result in side effects such as:

Gynecomastia (breast enlargement)
Headaches
Oily skin
Adult acne
Aggressive behavior
Risky actions
Worsening of sleep apnea
Depression
Stroke or heart attack
Elevated red blood cell count (polycythemia)
Testosterone replacement therapy for men should only be used as prescribed by a doctor to treat Low T.
Advantages of TRT In Men
The disadvantages of testosterone replacement therapy for men are typically far outweighed by the benefits for those diagnosed with hypogonadism. Low T can significantly reduce a man's quality of life. TRT brings the following positive benefits:
Increased energy, stamina, and vitality
Better sleep
Happier mood – less depression and stress
Improved sex drive and performance
Lower blood pressure and cholesterol levels
Enhanced brain functions, memory, and focus
Stronger bones and muscles
Better metabolism, insulin sensitivity, glucose uptake, and weight loss
Improved red blood cell production and better circulation
Increased cardiac capacity for exercise
Testosterone replacement therapy for men brings many benefits that significantly enhance quality of life.
Prescription Details of TRT for Men
The following information provides crucial prescription details of testosterone replacement therapy for men:
Cases and Conditions for TRT Prescription in Men
Any of the following conditions or causes may lead to low testosterone and the need for a TRT prescription:
Adult-onset hypogonadism due to naturally declining testosterone production
Testicular tumor or injury
Traumatic brain injury
Tumor of the hypothalamus or pituitary gland
Treatment of the above tumors via surgery, radiation, or chemotherapy
Prostate cancer treatment
Congenital conditions such as Klinefelter or Noonan syndromes
Type 2 diabetes
Cardiovascular disease
Obesity
Inflammation in the body
Metabolic syndrome
Alcohol, smoking, or other substance abuse
Certain types of autoimmune disease
HIV/AIDS
Terms and Stages of Testosterone Replacement Therapy for Males
The initial term of TRT is often a period of six months – although that may differ based on individual needs. During the initial stage of testosterone replacement therapy, the goal is to increase total serum testosterone levels to between 550 and 650 ng/dL. Most men will start to notice some improvement within the first two weeks of treatment onset, with significant changes appearing by the end of three months. A review of testosterone levels and discussion of treatment continuation typically occurs at the six-month mark.
What Doctor Prescribes Testosterone Replacement Therapy
The endocrine system produces the body's many hormones. Hormone specialists (endocrinologists) are the best doctors to treat low testosterone levels.
How Much Does TRT Cost for Males?
The testosterone therapy price varies considerably depending on the type of treatment selected. Our doctors recommend testosterone cypionate injections – the lowest costing form of TRT and the most effective. The average cost depending on the brand chosen, is under $200 per month. Other types of testosterone can go as high as nearly $1,000 per month.
Are Testosterone Injections In Males More Effective?
Studies have shown that testosterone injections are the most effective form of treating male hypogonadism. The testosterone medication is best absorbed into the bloodstream upon injection into the muscle. Men who use testosterone cypionate injections report the fastest results.
Doctors specializing in hormone treatment are the best choice for prescribing testosterone replacement therapy for men.
FAQ About TRT for Men:
The following questions and answers provide additional facts about testosterone replacement therapy for men:
Can TRT Cause Erectile Dysfunction?
Testosterone therapy often helps improve erectile functions – it does not cause ED.
Can TRT Lead To Gynecomastia?
Some men may experience enlarged breast tissue (gynecomastia) in the early stages of TRT, as their bodies are getting used to the higher levels of testosterone. Individuals who use testosterone illegally or in too high a dosage may experience long-lasting gynecomastia.
Is It Safe To Use TRT After Prostate Cancer?
Yes, studies have shown no correlation between testosterone replacement and any increase in the return of prostate cancer (PCa). Men who have been treated for PCa often suffer from the symptoms of Low T and can benefit significantly from testosterone therapy.
Does TRT Cause Infertility In Men?
Testosterone replacement provides the body with increased amounts of testosterone, which can cause the hypothalamus and pituitary gland to decrease signals to the testes to produce testosterone. When that happens, a man may experience infertility.
Can Testosterone Replacement Therapy Lower Sperm Count?
A low sperm count is possible with TRT due to the lack of natural testosterone production in the testes. Only testosterone locally produced can influence the maturation of sperm cells. Doctors often prescribe HCG or clomiphene to men who are trying to conceive if they have low testosterone levels.
Is It Possible That TRT Lead To Kidney Disease?
Testosterone therapy prescribed by a doctor does not lead to kidney disease. If anything, TRT has been shown to possibly delay chronic kidney disease progression and lower mortality and morbidity risks.
Testosterone replacement therapy for men provides more benefits for the body than it does risks – when properly prescribed and used.
They call it male menopause, but I call it no fun and a destroyer of life. Because of low testosterone, my marriage was falling apart, and I almost lost my job due to lack of energy, poor focus, stupid mistakes, and severe depression. All that changed after I called your clinic for a free consultation over the phone. The medical advisor I spoke with said that it sounded like I had low testosterone levels, and the blood tests I took that week backed up the diagnosis. Well, that was three months ago, and I can now report that all my problems have pretty much disappeared. I have better focus, energy, sex drive, mood, muscle tone, and attitude. My wife and I are even going on a second honeymoon – something we talked about doing for years.
After suffering for years with undiagnosed symptoms, a friend told me he thought I had Low T. I had never considered that possibility and was a bit upset with my family physician for not recognizing the symptoms. When I spoke with one of your medical advisors on the phone, he explained that most general doctors do not have the hormone training necessary to recognize low testosterone. My blood tests showed very low levels of testosterone, and the doctor prescribed testosterone cypionate injections for me to give myself at home. I was nervous about the first shot, but my advisor walked me through it over the phone. Its been only two months, but so far, my energy, focus, sex drive, and erections have all improved. I can't wait to see what comes next.
I never expected to develop Low T this early in life, yet all my symptoms (low sex drive, muscle loss, depression, weight gain, and insomnia) pointed to it, so I got my blood test and physical exam. The diagnostic process was easy to complete, and I like the fact that I can have my consultations by phone rather than having to take time off from work for office visits. My medical advisor was extremely knowledgeable and answered all my questions without using complicated terms. The doctor prescribed testosterone cypionate injections every 14 days. I was surprised how quickly my medication arrived and how easy it was to give myself a shot – the online video demonstrations were excellent. Within days of my first injection, I was already feeling a bit more at ease and energized. It's only been a few weeks, but so far, I am pleased with my results.