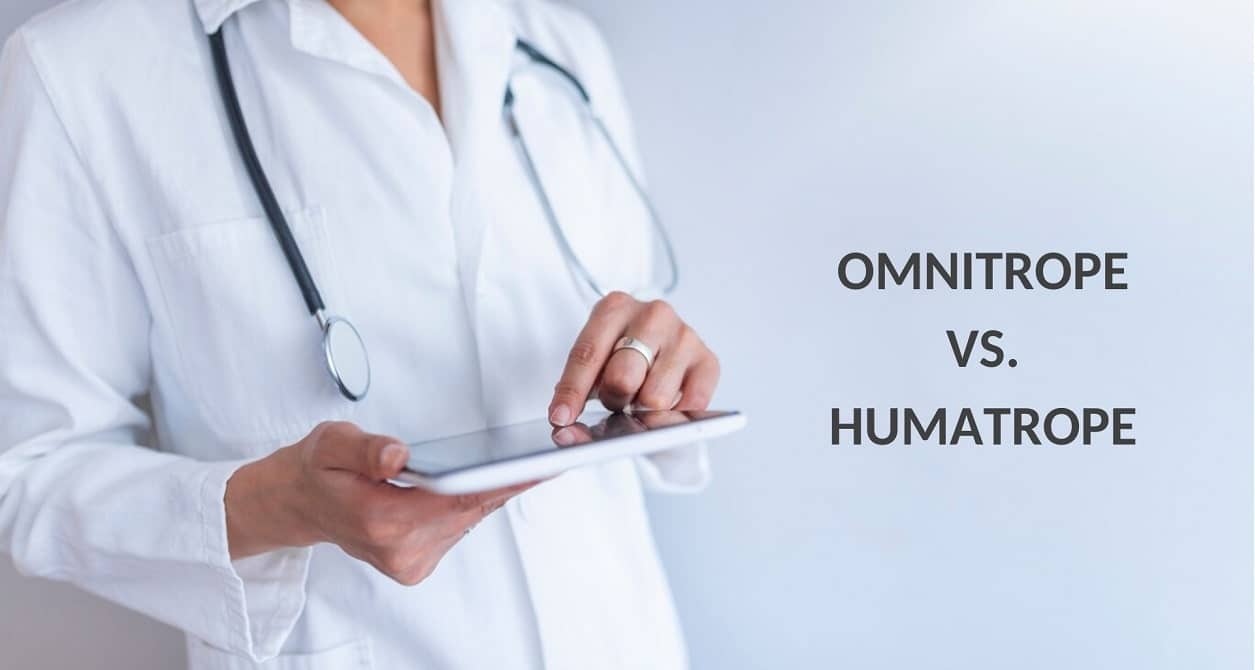 Omnitrope VS Humatrope: What Is the Difference?
Understanding the important differences between HGH injections like Omnitrope and Humatrope can be difficult for patients and other people with no experience in the specialized fields of endocrinology or pharmacology.
Patients who wish to undergo hormone replacement therapy (HRT) have a wide range of options regarding both the type of treatment and the type of drug they will use to achieve optimal results. To help patients sort through the medical literature with a savvier eye, here is the most important, basic information regarding how to select the best medication in your case.
Injectable HGH Medications for Adults
The endocrine system is a complex network of chemical messengers called hormones that are responsible for conveying important information throughout the body, stimulating necessary processes and tampering down activity when it is not needed. There are more than 200 human hormones active at any given time. HGH is one of them, produced in the pituitary gland of the brain and then distributed throughout the body. For people who have experienced the negative effects of low HGH levels, replacement therapy is currently the most effective treatment possible to restore HGH to healthy levels.
Although many HGH products were originally developed to treat growth disorders caused by low growth hormone levels in children, adults with hormone deficiencies can also benefit from the use of these drugs. For all humans who experience deficits of growth hormone, hormone replacement therapy (HRT) using synthetic HGH offers potential benefits.
Only a qualified healthcare professional can determine if you are a good candidate for HRT. To make this determination, the doctor will screen your:
Medical history.
Physical fitness.
Hormone deficits (via a blood test).
If the results indicate that you are, in fact, qualified to receive HRT to treat low levels of growth hormone, the next step is to choose the ideal medication.
What the Scientific Literature Says About GH Therapy and Medications
When prescribed correctly and administered by a skilled provider, HRT using synthetic HGH is safe. The provider will screen for any risk factors associated with hormone supplementation and monitor patient progress throughout the therapy for any adverse reactions. In one study of the safety and efficacy of recombinant HGH, the researchers observed no significant side effects in the subjects it studied. The most impactful adverse side effect was mild hypothyroidism, a condition that can easily be treated.
Most of the early studies of HGH supplementation were of children. As the usefulness of the therapy for adults became more widely recognized, researchers also began to look at how HGH therapy affects adults. The study found that, in adults with a growth hormone deficiency, therapy successfully increased both HGH and insulin-like growth factor 1 (IGF-1), another important hormone that works alongside HGH. IGF-1 is also typically low in patients with low HGH.
Patients who we treat typically report the following improvements in their quality of life and overall health following administration of HGH:
Better mood (more optimistic)
Higher energy levels
Improved sexual performance/higher libido
Increased muscle density
Lower body fat levels
Enhanced cardiovascular capacity
If you are experiencing a deficit of GH and are in relatively stable physical condition, you are likely an ideal candidate for HRT. Before making a decision in your case, there are several important aspects of treatment to consider, such as:
Overall health
Concurrent health conditions (heart conditions, diabetes, etc.)
Age
Vital statistics (blood pressure, blood sugar, etc.)
Circulating HGH levels prior to therapy
Synthetic Hormone Medications to Avoid
The most important factor in your decision-making process regarding which HGH medication to choose for your therapy should be quality. Never sacrifice quality for lower price – it's not worth the risk. Many substandard, and often outright fake, growth hormone products are sourced from China, India, and other third-world locations where quality assurance is minimal and industry standards are virtually non-existent. To further complicate buying GH from overseas, many of these companies frequently change their names to stay one step ahead of the news cycle, making vetting the quality of their products difficult.
The best way to protect yourself from fraudulent or adulterated HGH is to only purchase from reputable manufacturers that are licensed. Omnitrope and Humatrope are two of the best, most respected, and widely studied HGH medications available in the US.

Omnitrope or Humatrop: How to Make the Best Decision?
Both Omnitrope and Humatrope are forms of somatotropin, the natural growth hormone that human bodies produce in the pituitary gland. This medication is called recombinant GH because it mimics the naturally-occurring growth hormone somatotropin.
Neither has a generic version that is currently available in the US, so you should consider one of the two if you need growth hormone supplementation. Their interactions with other drugs and side effects are comparable. Humatrope has been approved as a treatment for HGH deficiency since 1987, whereas Omnitrope gained its approval relatively recently in 2006. To help compare and contrast the two, here is a handy chart:
Humatrope
Omnitrope
Generic Available in the USA?
no
no
Drug Interactions

cyclosporine
corticosteroids
diabetes medications
estrogens

corticosteroids
diabetes medications
estrogens

Side Effects

itching or skin changes where the medicine was injected
swelling, rapid weight gain
muscle/joint pain

headache
joint pain
muscle pain
pain and swelling at site of injection
unusual tiredness or weakness

First Approval Date
March 8, 1987
April 19, 2006
Manufacturer
Eli Lilly
Sandoz
Disease Interactions

Scoliosis
Cancer
Diabetes
What is the difference between Omnitrope and Humatrope?
Fundamentally, Omnitrope and Humatrope perform the same function – replacing hormone levels with the therapeutic action of exogenous (sourced from outside the body) growth hormone.
The primary differences between the two drugs are the price, the manufacturer, and the varieties that they come in. Check out our head-to-head chart below for more details.
Humatrope Vial 5 mg
Humatrope Pen
Omnitrope Vial 5.8 mg
Omnitrope Pen
Price

$1,000
6mg — $1,400

12 mg — $3,200

24 mg — $5,700

$4,224 (pack of 8)
$400.00
Dosage
5 mg
6/12/24 mg
5 mg
–
Delivery Style
Injection
Injection
Injection
injection
Needed component parts
Syringe, diluent
none
Syringe, diluent
none
As you can see, each medication, in its different forms, offers unique benefits and drawbacks. Omnitrope has made its reputation as a low-cost but high-quality alternative to the more expensive somatotropin versions available in the US. Humatrope, on the other hand, is one of the original somatotropin drugs approved in the US and many practitioners consider it to be the gold standard of GH supplements. The guarantee premium quality and track record of success, therefore, is built into Humatrope's relatively higher price.
Conclusion: Which Brand to Choose?
The choice of GH for HRT medication depends on the individual circumstances of patients. To choose between the two, you should schedule an appointment to discuss your options with a qualified practitioner.
After performing the diagnostic examination described earlier in the article, including a blood profile, an experienced provider can make the most informed determination of the best medication.