Growth hormone deficiency (GHD) is a condition that causes widespread symptoms and physiological breakdown in the adult body. Men and women dealing with GHD report depression, fatigue, weight gain, forgetfulness, bone and muscle loss, low sex drive, and aging skin as aspects of their condition.
The standard treatment in the past was, and still is, human growth hormone (HGH) therapy. However, there is another option for those whose condition is not yet severe – sermorelin therapy. In this review, we look at the differences between sermorelin and HGH, as well as when it is indicated and contraindicated for use. We also discuss how to get it and answer some frequently asked questions about the treatment.
What is Sermorelin therapy?
Sermorelin therapy, also called sermorelin acetate, is a prescription drug that stimulates growth hormone (GH) production in the pituitary gland. It is a complex therapy that acts on the somatotrophs (growth hormone-producing cells) to promote an increase in GH secretion.
Sermorelin contains the crucial 29 amino acid peptides found in the amino-terminal segment of growth hormone-releasing hormone (GHRH). GHRH is the chemical sent by the hypothalamus to the pituitary gland to promote growth hormone production. Although GHRH contains 44 total amino acid residues, it is the sequence of 29 found in sermorelin that trigger GH release. By stimulating increased growth hormone production, sermorelin provides the body with more of this vital chemical needed by the GH receptor cells to do their jobs.
What is the difference between sermorelin therapy and HGH injections?
Sermorelin therapy does not act the same as HGH. Human growth hormone injections contain the same 191 amino acid proteins as pituitary produced GH. What HGH does is give the body an immediate dose of growth hormones. HGH acts directly on GH receptor cells to stimulate their functions. Sermorelin is not an instant fix because it does not directly increase GH levels – it works behind the scenes to improve natural production.
The Essence of Treatment with Sermorelin Therapy
One reason why Sermorelin therapy is the better choice for some people is that it reduces the risk of raising growth hormone levels too high – which can happen when too much HGH enters the body. Of course, when hormone specialists prescribe HGH, they use extreme care to prescribe the appropriate dosage for each person to avoid any side effects.
The prescribing of hormone replacement therapy (HRT) requires the advanced training, knowledge, and experience of a medical specialist. Hormone doctors (endocrinologists) know how to balance hormone levels safely.
Let us look further at the indications, contraindications, and use of sermorelin injections:
Indications
Sermorelin is indicated for use in adults diagnosed with growth hormone deficiency. It works best in those men and women whose GH levels have not decreased to the point where severe symptoms are present. At that time, HGH therapy may be the better choice.
Symptoms of low GH levels include:
Poor sleep
Fatigue
Weight gain
Joint pains/bone loss
Muscle mass decline
Aging skin
Hair thinning/loss
Mood swings/depression
Anxiety, irritability, increased stress
Impaired brain functions/memory loss/brain fog/slow learning
Decreased drive/motivation/productivity
Low libido
Erectile dysfunction
Vaginal dryness
Hot flashes/night sweats
High cholesterol/triglycerides/blood pressure/blood sugar levels
Contraindications
The primary contraindication for sermorelin therapy is hypersensitivity (allergy) to any of the ingredients.
Sermorelin Injections
Most people inject sermorelin once a day subcutaneously to the abdomen. Sermorelin is often administered at night so that it helps promote the nocturnal secretion of growth hormone.
Possible Cost of Sermorelin Therapy
Unlike the more expensive HGH treatment, sermorelin therapy is extremely affordable. The final cost of sermorelin therapy depends on the dosage of medication, and whether sermorelin is provided on its own or with a blend of other secretagogues.
Depending on the treatment prescribed, sermorelin costs could be as low as under $200 per month for some people. There may even be some pharmaceutical assistance programs that can help with the out-of-pocket expense. Our medical advisors help each person receive the best treatment for their needs – at an affordable price.
A prescription for sermorelin therapy requires the completion of a consultation, exam, blood test, and medical history review.
Getting a Prescription for Sermorelin Therapy
There are two primary routes a person can take to get sermorelin therapy – visiting a local physician or calling for a telemedicine consultation with a national hormone clinic such as this one.
In either option, the following steps require completion:
Consultation
Physical examination
Blood testing
Medical history review
The doctor will consider age, gender, health, level of growth hormone deficiency, and body composition when determining the dosage for sermorelin therapy. The medical history review helps the specialist ascertain if any prior health conditions, underlying issues, or medications or supplements used may be contributing to low GH production.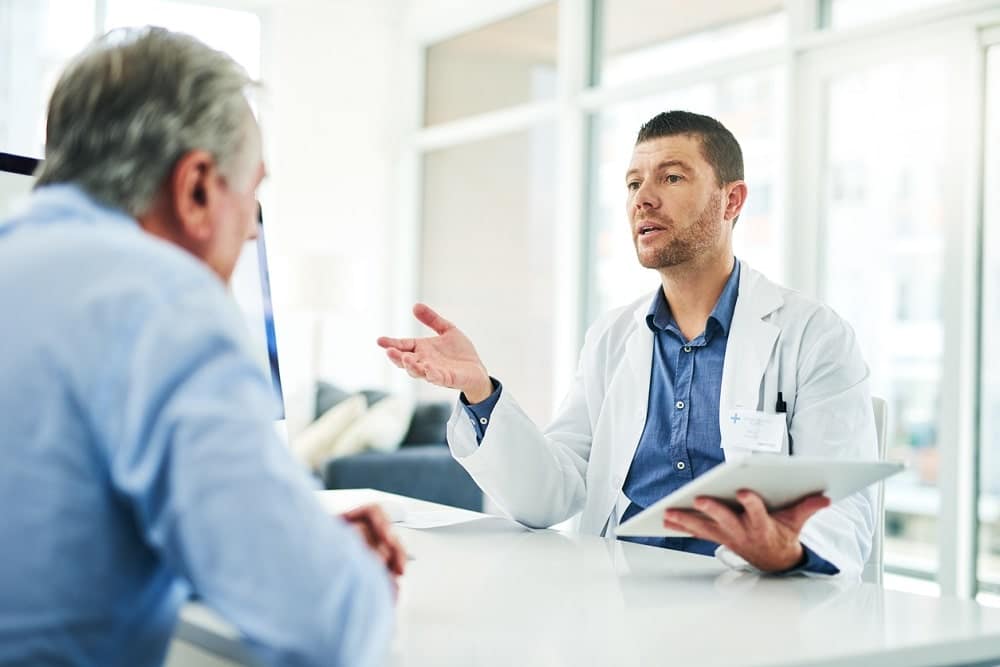 Therapy in Our Clinic
There are several reasons why getting sermorelin therapy in our clinic is the right choice, as we show below:
Terms
The terms of treatment at our clinic are similar to those of a local doctor's office – the difference is the ability to speak with us by phone rather than in person. Of course, many people like that fact due to the higher degree of privacy, not to mention the time savings. All follow-up consultations are also by phone, and we also offer communication services via email for those who find that a better option.
Stages
The stages of receiving hormone treatment in our clinic are as follows:
Initial consultation by phone – no charge, no obligation, highly confidential
Blood specimen collection at a local laboratory
Physical exam form submission by any doctor
Completion of our online medical history questionnaire
Follow-up consultation by phone to discuss diagnosis and treatment options
Selection and receipt of medications – shipped directly from the pharmacy
Costs
Visiting a hormone specialist's office is the costlier route, as there are multiple office visits, all with a fee for the appointment. Some doctors charge hundreds of dollars for these visits. With our clinic, we begin with a free consultation by phone. That is followed by prearranged, low-cost blood testing at a local lab. These two factors alone save hundreds of dollars over the course of treatment.
We simplify the process of getting sermorelin therapy to save our clients money and time throughout the course of their treatment.
Our Patients Reviews On Sermorelin Therapy
I have been to many doctors in the past, so I consider myself a good judge when it comes to medical staff and personnel. All I can say is thank you, every person I have dealt with at your clinic has helped me get through this trying time. None of the menopause treatments my doctor prescribed ever worked. I was carrying around 20 extra pounds, crying all the time, had zero energy, and it felt like my whole world was falling apart. Then your doctor diagnosed me with low growth hormone levels and prescribed sermorelin therapy. My advisor explained that I needed to be patient as I might not see any results for up to three months. I guess I am lucky – I started sleeping better two weeks into the treatment, and from there, everything started to change for the better.
Like many other men, I hate going to the doctor, so when a friend told me I could have a phone consultation and get low-cost blood testing, I jumped at the chance. You see, I had just told him I was suffering from memory lapses, no libido, hair loss, insomnia, and decreased motivation. I was surprised to hear that he was injecting sermorelin once a day, but that certainly explained why he always looked so healthy, youthful, and energized. Your clinical advisors and staff are so helpful and professional, and I felt like they truly cared about my well-being. It was easy to complete the necessary testing and diagnostic steps, and within a week of my call, I started my sermorelin therapy, and, after only a few months, all my symptoms are gone.
After feeling run down and suffering from mood swings and weight gain for a few months, I went for a physical and had a complete workup and many diagnostic tests. The doctors could not find anything wrong, and I was not premenopausal. I started doing research online and found your clinic and called to learn more about growth hormone deficiency. After getting my blood tests, it turned out that I had low growth hormone levels. Your doctor prescribed sermorelin therapy, and within a few months, I felt normal again – with energy to spare. I have started losing weight, and I no longer suffer from mood swings.
Common Fears About Sermorelin Therapy (Q&A)
Can sermorelin cause cancer?
Sermorelin therapy does not cause cancer. One of the fears of HGH is that it could lead to increased cancer risk because growth hormone stimulates cell regeneration. By increasing growth hormone production with sermorelin, it is possible that preexisting cancer could worsen. That is also why doctors rarely prescribe sermorelin or HGH to anyone who has active malignancy. Our doctors carefully screen people through physical examination and blood analysis to rule out potential cancer markers before starting treatment.
Does it leads to weight gain?
No, sermorelin therapy actually helps with weight loss, and it improves how well the body metabolizes food. Growth hormone helps stimulate fat burning, and most people experience a loss of fat, especially from the abdomen. The only time sermorelin might lead to weight gain is if a person is not overweight, and they still experience an increase in lean muscle mass.
Can sermorelin therapy be prescribed for females?
Yes, sermorelin is extremely beneficial for women with growth hormone deficiency. It often helps reduce and relieve the symptoms of PMS and menopause.
Does sermorelin treatment make you tired?
Because sermorelin therapy helps in all the same ways as growth hormone, most people will find that they sleep better at night and wake up feeling energized. Rather than increasing fatigue, sermorelin puts an end to it – improving stamina and endurance.
Please contact our hormone clinic for more information about sermorelin therapy, including scheduling your free consultation by phone or arranging for your blood test. We are here to help and provide answers to all your questions.
This medication can be sold only with a prescription of licensed doctor endocrinologist. Please click the button below, fill in the form and we will call you back to answer all your questions.