Saizen HGH therapy consists of daily shots of somatropin (Saizen human growth hormone) designed to boost the body's level of growth hormone (GH). Saizen contains the same 191 amino acid residues in a single chain as somatotropin (the other name for growth hormone). When an adult has growth hormone deficiency (GHD), he or she can suffer from a wide array of symptoms. In this review, we look at the use of Saizen for adults, how to get and use it, what it does, and the type of results we see every day.
HGH treatment is a complex therapy that should only be used when medically necessitated. Hormone specialists run comprehensive blood tests to determine if an adult has GHD.
Why should adults worry about growth hormone deficiency if they are done growing?
Growth hormone does more for the body than contribute to adolescent growth. GH regulates or supports many critical functions in the body, including:
Cell regeneration (vital for the muscles, bones, hair, skin, nails, organs, tissues)
Metabolism (essential for weight maintenance and insulin and glucose regulation)
Immunity (helping the body fight off invading microorganisms and speeding healing)
Cognition (supporting sharp brain functions, including memory)
That is only a sample of why protecting critical growth hormone levels is crucial for adults. Saizen HGH therapy ensures that the body has enough growth hormone to support these vital functions.
Saizen HGH therapy is a daily treatment that boosts the level of growth hormone in the body when it is deficient.
Uses
Hormone doctors use Saizen HGH therapy to correct the deficiency that occurs when the pituitary gland does not supply enough somatotropin (GH) each day. In the three sections below, we look at why GHD occurs in adults, what Saizen treats, and the benefits of HGH therapy for adults:
Why Does GHD Occur in Adults?
Growth hormone decline in adults can occur for many reasons, including:
Damage, disease, or tumor in the pituitary gland or hypothalamus
Radiation, surgery, or other treatment for the above reasons
Substance abuse
Certain genetic or medical conditions or treatments
Unknown causes (natural age-associated decline coupled with lack of sleep, a sedentary lifestyle, and being overweight can speed the process)
What Does Saizen Treat?
HGH therapy treats the following conditions in adults:
Infertility – some women undergoing IVF fertility treatments may benefit from using Saizen as growth hormone enhances the quality of the oocytes
GHD – growth hormone deficiency is the leading reason to use Saizen HGH therapy
Chronic kidney disease – some patients may use Saizen for this purpose
Benefits of Saizen for Adults
Saizen provides many benefits to adults, including:
Increasing muscle and bone mass
Reducing fat mass
Improving energy and metabolism
Deepening sleep
Supporting healthy immune system functions
Sharpening brain functions, including memory, focus, and learning
Enhancing sexual desire, performance, and pleasure
Improving appearance (younger-looking skin, thicker hair, better physique)
Strengthening heart and organ functions
Supporting a healthy emotional state (decreasing depression, stress, and anxiety)
Increasing motivation, productivity, and performance
More Details
In this section, we look at who should not use Saizen HGH therapy, its legality, and safety, how much to take, and possible side effects of treatment:
Restrictions
Do not use Saizen if any of the following are present:
Active malignancy or tumor
Acute illness as a result of multiple system trauma or from abdominal or heart surgery
Severe breathing difficulties
Allergy to ingredients in Saizen
Diabetic retinopathy
Tell the doctor if any of these issues are present before starting Saizen HGH therapy:
Pregnancy
Breastfeeding
Diabetes
Scoliosis
Liver or kidney disease, transplants, or issues
Prior cancer or tumor
Thyroid issues or treatment
Pancreatitis
Drug Interactions
The following drugs may interact with somatropin, so let your doctor know if you are taking them:
Insulin or other diabetes medications
Glucocorticoids
Oral estrogen
Cytochrome P450-Metabolized drugs
Legality & Safety
Legality – Saizen use is only legal when medically prescribed by a doctor. It is illegal to buy Saizen without a prescription or from outside the US.
Safety – It is safe to use Saizen in the dosage prescribed by the physician. Using HGH therapy when not authorized or in too high a dose can lead to significant side effects and risks to one's health.
Storage
Before Reconstitution – store Saizen at room temperature
Following Reconstitution – store Saizen in the refrigerator – vials for up to 14 days, cartridges for up to 21 days
Dosage
Use only the dosage of Saizen prescribed by the doctor. HGH therapy is personalized to individual needs.
Side Effects
The most common side effect of Saizen is injection site reactions, such as redness, irritation, itching, or swelling. These effects disappear on their own.
Other potential side effects can occur during the early stages of treatment as the body adjusts to higher growth hormone levels:
Edema
Insulin resistance
Joint, muscle, or nerve pain
Headache
Abuse, overuse, or misuse of Saizen HGH can lead to other, more significant side effects, such as:
Carpal tunnel syndrome
Type 2 diabetes
Acromegaly
Enlarged organs
Chest pain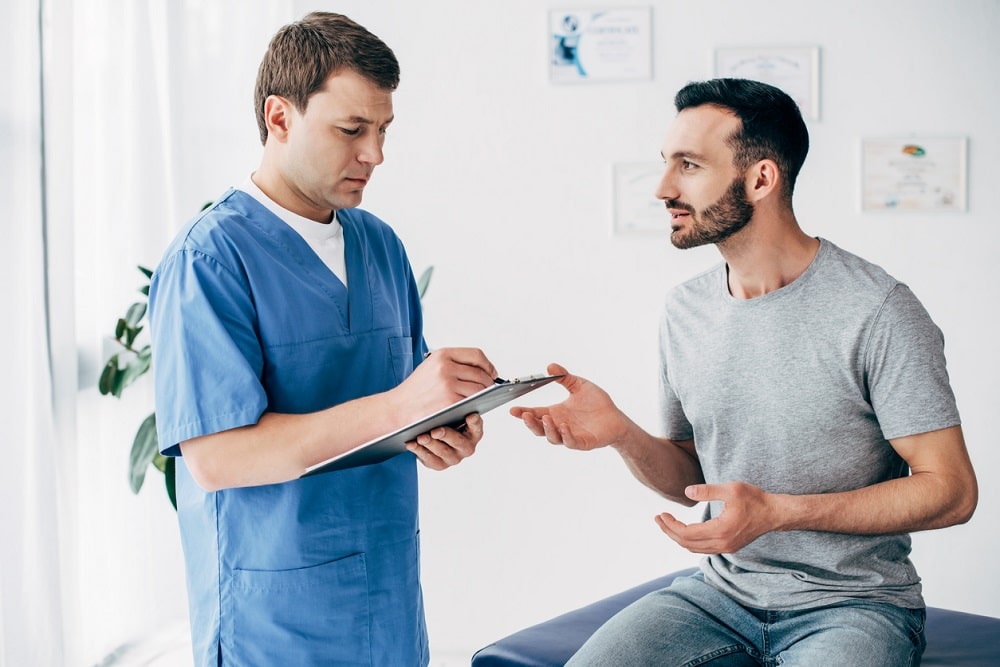 Prescribing Information
Hormone specialists prescribe Saizen HGH therapy following a comprehensive diagnostic process, consisting of the following:
Medical consultation
Physical examination
Blood analysis
Health history review
It is essential to contact a doctor with extensive experience in the field of hormone replacement therapy. HGH injections are safe to use when medically necessary to raise low growth hormone levels. Adults with GHD have much success when using Saizen to boost low GH levels.
To help our clients lower the overall cost of their treatment, we offer our direct telemedicine services. Through complimentary phone consultations with our highly knowledgeable medical advisors, we can assess each person's symptoms, answer questions, and determine if proceeding with diagnostic testing is necessary. When a hormonal decline is suspect, low-cost blood testing and local examinations complete the process.
We offer complimentary telemedicine phone consultations to adults looking for Saizen HGH therapy.
Therapy Directions for Saizen
Directions for administering Saizen HGH therapy differ slightly depending on which method of injection selected. Every Saizen kit comes with complete written instructions. We also offer links to online videos that demonstrate the preparation and injection of Saizen HGH. Our medical advisors are happy to walk each person through the process over the phone during the initial injection.
For those who select Saizen vial and syringes, a separate vial of bacteriostatic water will be used for reconstituting the medication. Saizen comes as a lyophilized (freeze-dried) powder that requires mixing before use. Once mixed, most people will inject Saizen once a day, at night, to the abdomen. Because Saizen is a subcutaneous injection, it only enters below the skin surface and not into the muscle. The needles used are the same small ones used by diabetics to inject insulin.
The Saizen easypod ® is a unique device that presets the dosage, so there are no mistakes. It is different from other brands as it is not an injector pen, but rather a juice box-shaped device that also keeps the needle hidden from view.
Merck Serono also offers the click.easy mixing device and the one.click and cool.click injector systems.
I did not want to turn 60 and feel like an old lady, so when a friend told me to call your hormone clinic, I gave it some consideration. To be honest, I was hesitant to trust a clinic over the phone – I am used to going to doctors' offices. Anyway, I gave it a chance and am so glad I did. Your medical advisor that I spoke with spent more time telling me about growth hormone deficiency and treatment than any doctor I have ever seen in an office. After going for blood testing and having my physical exam report sent in, I felt secure in the treatment your doctor prescribed. All I can say is wow, I am so glad I started using Saizen injections. I feel and look years younger and am no longer afraid of turning 60.
Although my gynecologist said that I should not worry about estrogen side effects, I still did not want to take that medication to get rid of my hot flashes, mood swings, weight gain, and night sweats. After talking to your medical advisor, I am so glad I trusted my instincts since I have learned that estrogen can increase weight gain. Since starting my treatment with Saizen HGH, I have lost 10 pounds, and have no more mood swings, hot flashes, or night sweats. I have noticed that my skin tone and hair growth have also improved, and I feel years younger again.
I decided to call your clinic after my last few dates wound up with me being unable to get or maintain an erection. Since I am a single man, it is important that I be able to perform if I want to attract a partner who still desires sex. I was embarrassed at first to explain my problem to your medical advisor over the phone, but he put me right at ease, telling me this happens to many men. My blood tests showed that I had both growth hormone and testosterone deficiencies. The doctor was more concerned about starting HGH therapy first as he said my levels were very low and that the treatment would also help increase testosterone production. I have to say that the Saizen HGH therapy worked wonders. My sex drive improved a few weeks into treatment, and by the end of two months, I was having no more problems with erections. I am also happy to report I have more energy, am sleeping better at night, and look and feel great!
This medication can be sold only with a prescription of licensed doctor endocrinologist. Please click the button below, fill in the form and we will call you back to answer all your questions.